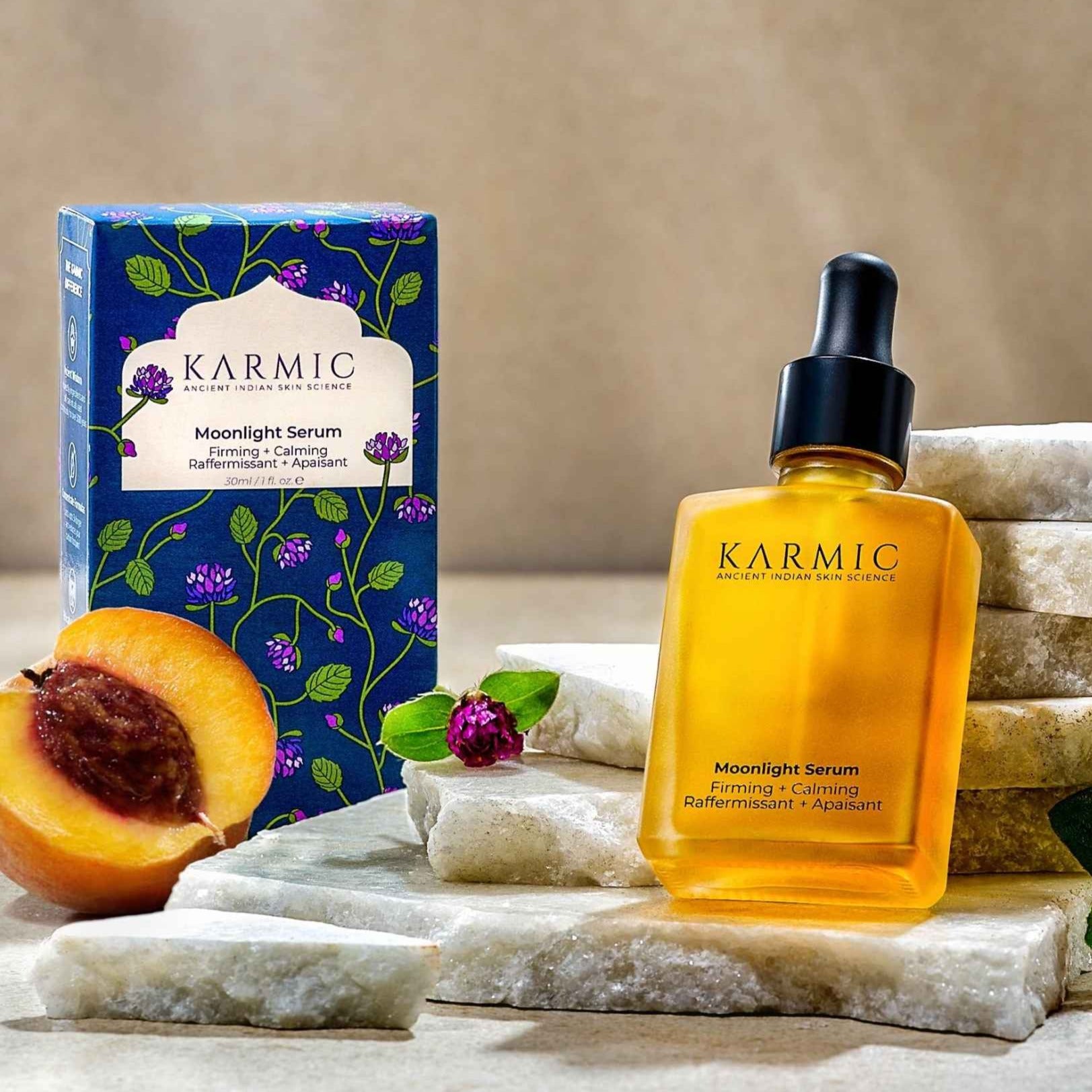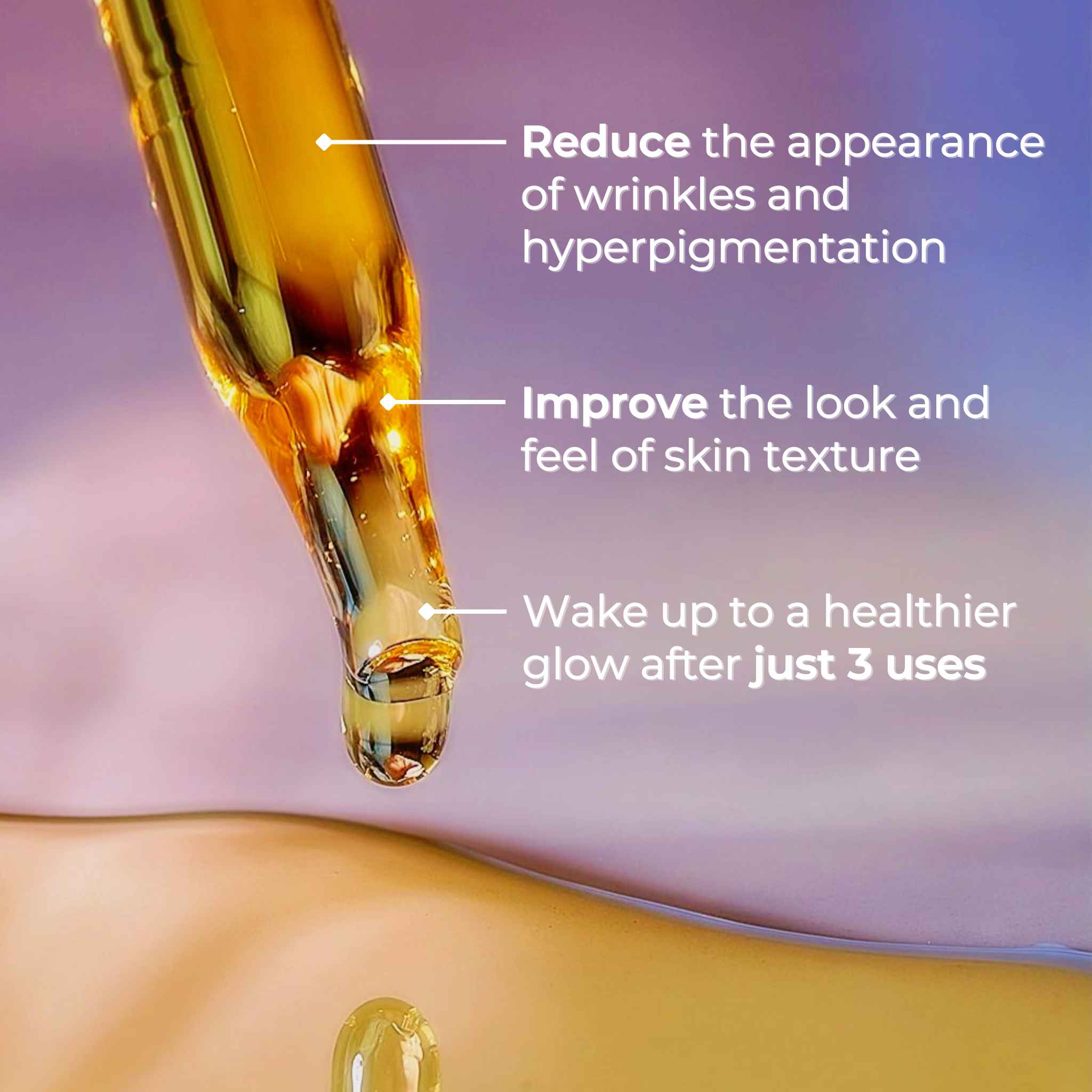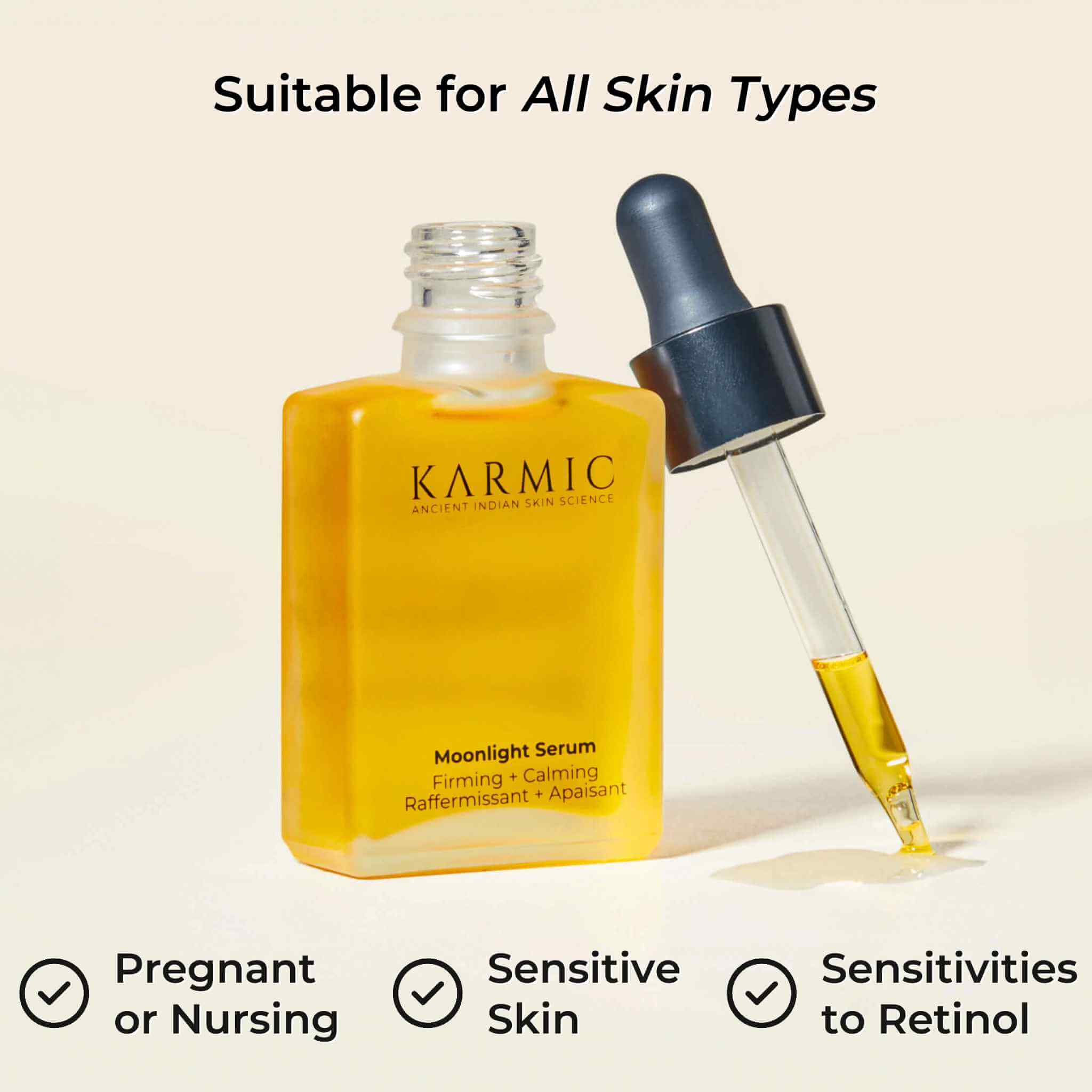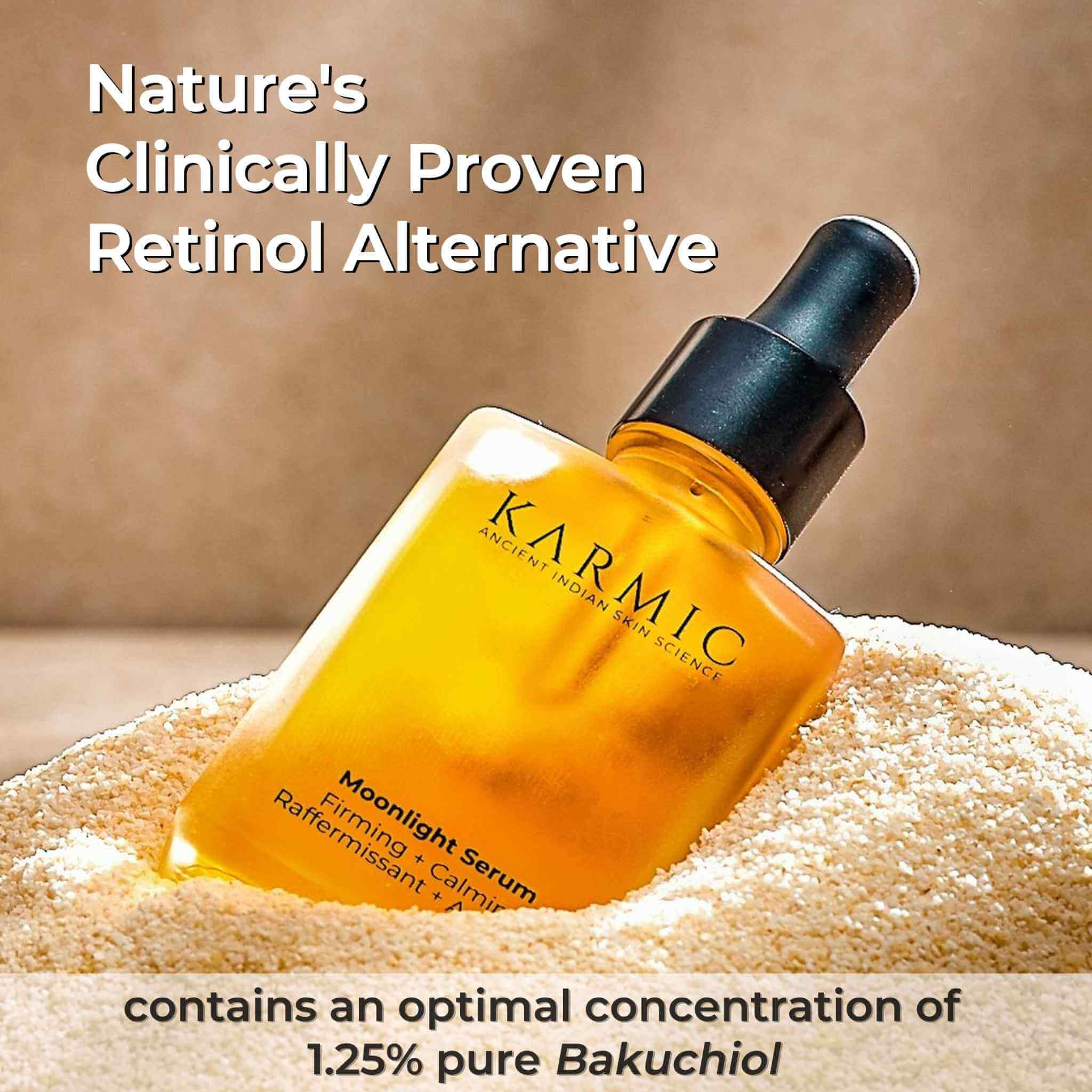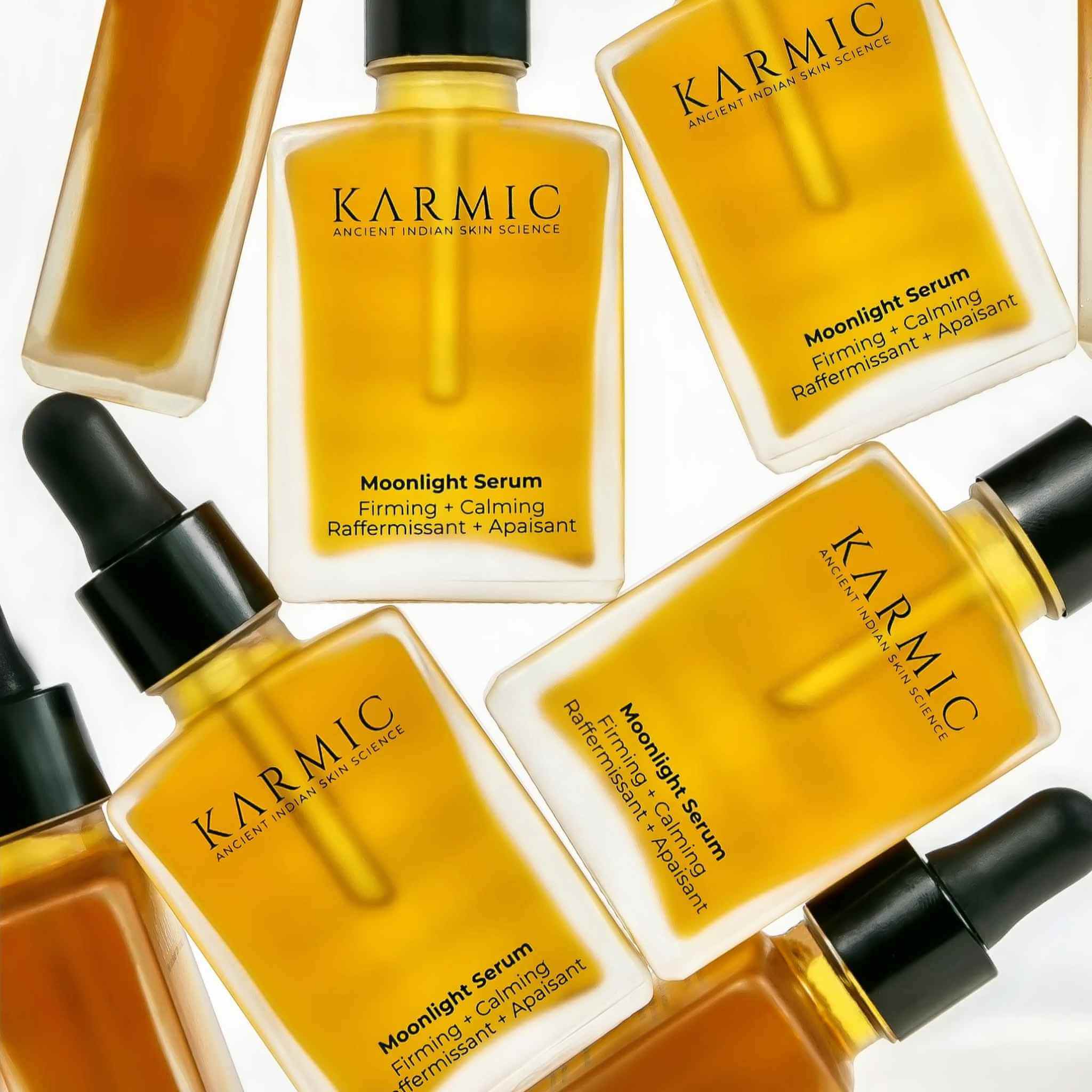 Moonlight Serum
Multi-Action Bakuchiol Night Serum
---
A gentle, plant-powered serum designed to address multiple skin concerns in a single step.
Minimise the appearance of fine lines and wrinkles over time, visibly even the skin tone and deeply hydrate to nourish the skin barrier. See improvements within 4 weeks.
This oil-based formula harnesses the gentle power of pure Bakuchiol, a natural retinol alternative, and stabilised Vitamin C. It is also safe to use for those with sensitive skin, including skin conditions like eczema / psoriasis / rosacea.
► Suitable for All Skin Types
► Quick Absorbing and Non-Greasy
► Non-Comedogenic and Fragrance Free
► One Bottle Lasts up to 4 Months
Reverse Signs of Ageing

This intentional blend of tradition-rooted, science-backed ingredients effortlessly boosts collagen, fades pigmentation and calms redness to promote a noticeably youthful-looking, younger-feeling, evenly-toned complexion.

Prevent Free Radical Damage

It's never too early to start preventing the signs of aging and this serum is a perfect place to start. Twelve ancient superfruits, used for centuries and renowned for their powerful antioxidant properties, penetrate deep into the skin and counteract free radicals to slow down age-related skin damage.

Looking for more?

Check out Sunlight Serum, to double your daily dose of vitamin C and benefit from the brightening Ayurvedic hero, Saffron, for a supercharged glow.
Use this velvety-textured serum daily to prevent and reverse signs of ageing across all skin tones and types.

Apply onto clean, damp face and neck.

Top Tip: Use this serum under and around the eyes, avoiding the need for a separate eye product.

It also layers very easily into any routine.

(1) Cleanse: Use Pot of Gold or another hydrating cleanser

(2) Tone: Use a hydrating toner (Optional)

(3) Vitalise: Moonlight Serum - 4 drops

(4) Moisturise: Use Richie Rich Rich Intense Moisture Balm that is perfect for dry or dehydrated skin (including sensitive skin) or another rich moisturiser.

(1) Cleanse: Use Pot of Gold or another hydrating cleanser

(2) Tone: Toner & AHA/BHA (Optional)

(3) Vitalise: Moonlight Serum - 3 drops
Bakuchiol

Bakuchiol is a plant based, clinically proven, sensitive skin friendly alternative to Retinol — research in the British Journal of Dermatology highlights that Bakuchiol outperforms Retinol in anti-ageing effects, without any facial skin scaling or stinging.

It boosts collagen and elastin production, vital for keeping the skin firm and smooth, while blocking the inflammatory pathways within the skin. This results in a visibly calmed, even and youthful-looking complexion.

Ayurvedic Plant Extracts

To enhance this serum's performance, we blend extracts of revered Ayurvedic herbs, using a traditional 21 day Ayurvedic infusion process for maximum potency. Amla, rich in Vitamin C, offers strong antioxidant protection; Turmeric, known for its anti-inflammatory and skin-brightening effects; Liquorice, which helps balance skin pigmentation; Manjistha, known for improving skin complexion; and Nagarmotha, which clarifies the skin.

The blend is further enriched with a medley of cold-pressed oils.

Vitamin C

Finally, we blend in an oil-soluble, non-irritating, stabilised Vitamin C, Ascorbyl tetraisopalmitate, which is able to penetrate deeper into the epidermis than the commonly used, 17 times cheaper, L-ascorbic acid. This further helps prevent signs of premature skin ageing by stimulating collagen biosynthesis and intervening in melanogenesis.

Formula base

All of the above are delivered with ease in a silky Capryloyl glycerin/sebacic acid copolymer-base, which is naturally derived from Castor oil and helps lock in moisture.
Diheptyl succinate*, Capryloyl glycerin*, Sebacic acid, Coco-Caprylate/Caprate*, Vitis vinifera (Grape) Seed Oil*, Sesamum indicum (Sesame) Seed Oil*, Linum usitatissimum (Linseed) Seed Oil*, Nigella sativa (Black Seed) Seed Oil*, Ricinus communis (Castor) Seed Oil*, Prunus Armeniaca (Apricot) Kernel Oil*, Helianthus annuus (Sunflower) Seed Oil*, Solanum lycopersicum (Tomato) Fruit Extract, Phytosterol*, Bakuchiol*, Hippophae rhamnoides (Seabuckthorn) Oil*, Mixed Tocopherols (Vitamin E), Ascorbyl tetraisopalmitate (Vitamin C), Curcuma longa (Turmeric) Root Oil*, Glycyrrhiza glabra (Liquorice) CO2 Extract*, Emblica officinalis (Amla) CO2 Extract*, Cyperus scariosus (Nagarmotha) CO2 Extract*, Rubia cordifolia (Manjistha) CO2 Extract*

*Organic Ingredients
Period After Opening (POA): 18 months

The POA of our products is typically three times (3x) the average water-based skincare product - which usually has a POA of 6-9 months. Moreover, we achieve this with fewer and milder preservatives.

"How" you ask?

By eliminating the water. Water is the primary attractor of bacteria, and by removing water from our formula, we are able to use milder, natural preservatives and increase shelf life.

Shipping: All products are shipped from the UK within 24 business hours.

Storage: Keep away from direct sunlight. Store in a cool, dry place.

Quantity: 30ml / 1 fl. oz.

Made in: India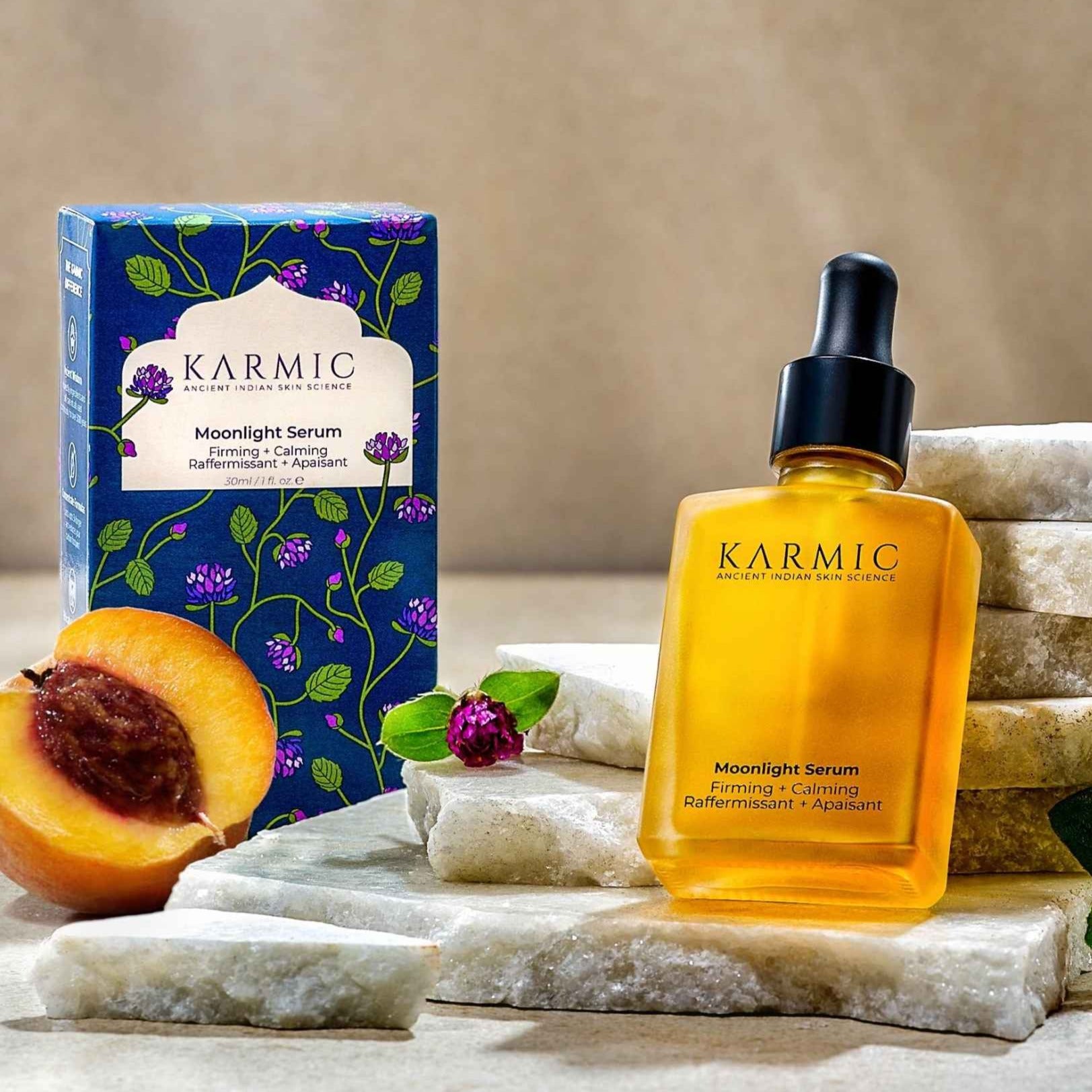 Don't just take our word for it
" Whether I'm having flair-ups or sensitivities or hormonal outbreaks I feel my skin always reacts well to this "
" I have to say that with consistent use, I've noticed my fine lines are not that noticeable "
" It's made my skin soft and glowy and smells amazing "
— Customers who purchased Moonlight Serum
" I created this serum as an alternative to harsh, traditional retinoids. Bakuchiol is the most effective natural anti-aging ingredient, and this serum delivers ... without irritation "
— Sunita Maheshwari, Lead Formulator & Ayurvedic Practitioner
This product is rated 4.8 of 5.0 stars.
It has received 47 reviews.
Moonlight Serum
I read many reviews before purchasing this item. Karmic being a very ethical company didn't take a lot of convincing. This product is divine, smells gorgeous and glides onto the skin like magic. I'm
In love
Moonlight Serum
I LOVE this product. I've always been confused as to what to do with my difficult and temperamental skin in the evenings, whether I'm having flair-ups or sensitivities or hormonal outbreaks I feel my skin always reacts well to this product.
Amazing
Their products are fantastic. You'll see and feel the difference in your skin the first time you use it.
Moonlight Serum
Feels really smooth and soft on your skin.
Very nice on skin, not heavy
Is Bakuchiol as effective as Retinol?

Absolutely. A 2018 randomised, double-blind, 12-week study conducted by the British Association of Dermatologists showed that Bakuchiol and retinol both significantly decreased wrinkle surface area and hyperpigmentation, with no significant difference between the compounds. However, users of retinol reported more facial skin scaling and stinging.
Is Moonlight Serum safe to use while pregnant or nursing?

Yes - Moonlight Serum is generally safe to use while pregnant or breastfeeding. However please consult your physician before use.
I have oily skin, is this product suitable for me?

Yes! Moonlight Serum has been expertly formulated to work on all skin types. If your skin feels oily after using the serum, we suggest reducing the amount applied.
Can I use Moonlight Serum after using AHA/BHA?

Yes, Moonlight Serum works great right after using a gentle acid like Salicylic Acid or Glycolic Acid. But, it's best to try a patch test.
100%
Active Ingredients
in Moonlight Serum
Natural Actives
Vegan Ingredients
Cruelty-free
No Artificial Fragrances
No Added Preservatives
Recyclable & Biodegradable